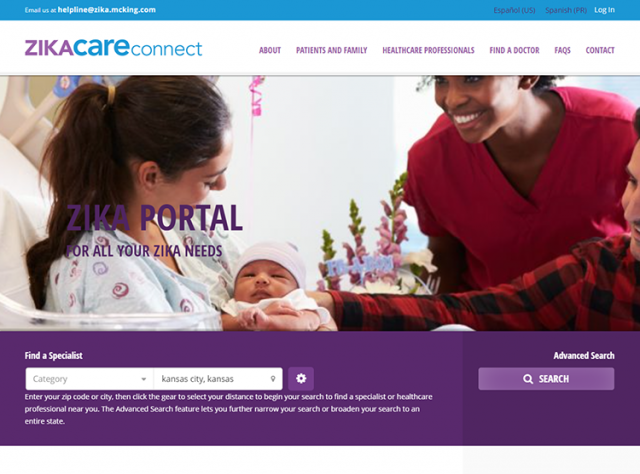 The Need:
Clinical management of Zika virus infection during pregnancy and the provision of specialized medical care for infants exposed to Zika virus infection in uteri can be complicated and necessitates specialized health services. Improved access to appropriate health services – including appropriate diagnostic testing, specialized clinical care, and early intervention and developmental services – may potentially lessen the overall impact of Zika virus infection in pregnancy and improve long-term outcomes for Zika-affected children.
How We Helped:
In collaboration with the March of Dimes and the Centers for Disease Control and Prevention, McKing designed and implemented a multi-component program, Zika Care Connect (ZCC), to address barriers to accessing specialized care for pregnant women with laboratory-confirmed Zika virus and infants with Congenital Zika Syndrome. The program includes a network of specialized healthcare professionals that are qualified and willing to treat patients with suspected or known Zika virus. This network includes healthcare professionals who are maternal fetal medicine specialists, mental health professionals, neurologists, ophthalmologists, developmental pediatricians, endocrinologists, infectious disease specialists, radiologists, and care coordinators. ZCC is partnering with the Early Hearing Detection and Intervention – Pediatric Audiology Links to Services (EHDI-PALS) program to provide access to audiology services across the U.S. The program has been established in 18 states (Arizona, California, Florida, Georgia, Illinois, Louisiana, Maryland, Massachusetts, New Jersey, New Mexico, New York, North Carolina, Ohio, Pennsylvania, Tennessee, Texas, Virginia, Washington) and two territories (Puerto Rico and U.S. Virgin Islands).
McKing is using a multi-faceted strategy to build the healthcare professional network by engaging medical professional associations, such as the American Academy of Pediatrics and American Congress of Obstetricians and Gynecologists to disseminate information to their members to both encourage enrollment in the network and to educate them on ZCC resources for healthcare professionals. McKing is working with state, territory, and local health departments to determine which areas are in most need, developing targeted strategies for enrolling healthcare professionals in that state and leveraging existing Zika response efforts and networks to support the enrollment of healthcare professionals into ZCC. McKing is also conducting direct outreach to academic health systems, children's hospitals, and other medical practices to request participation in ZCC.
Results:
As of November 2017, McKing has built a healthcare professional network that includes 609 practice locations across 18 states and two territories. Enrollment of healthcare professionals continues in order to broaden access to care. The healthcare professional network is accessible through a website and HelpLine. The website contains both educational materials and experiential approaches. Interactive content such as search capability to identify local members of the healthcare professional network are located on the website. Other components include informational materials, frequently asked questions and links to CDC, state and local health department, and partner organization resources. The website is available in both English and Spanish. The HelpLine is accessible by email and a toll-free phone line that is staffed during business hours and available in English and Spanish. In its first six months, April-November 2017, the website received over 7,000 visitors.
McKing is in the process of designing a program evaluation to determine the impact that Zika Care Connect has on improving access to specialized medical services for pregnant women and infants affected by Zika.
Client:

National Center on Birth Defects and Developmental Disabilities

Core Service Areas:

Content Development, Information Technology Services, Program Evaluation, Design and Implementation Promotion and Marketing

Skills:

Communication and Marketing Scientific Services

URL:

https://zika.mcking.com/