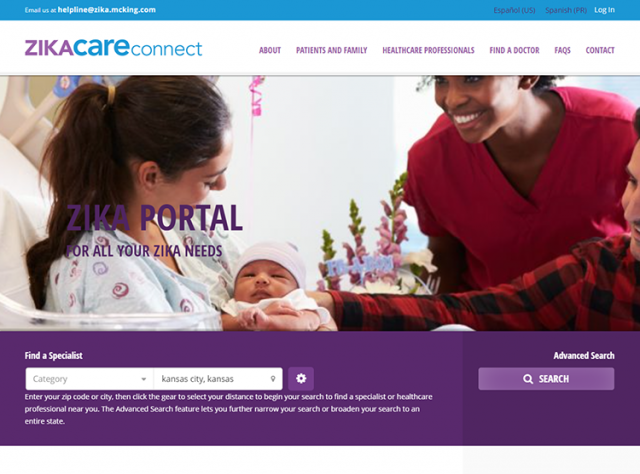 The Need:
CDC sought support to improve clinical management of Zika virus infection during pregnancy and to improve access to appropriate health services—including appropriate diagnostic testing, specialized clinical care, and early intervention and developmental services—to potentially lessen the overall impact of Zika virus infection in pregnancy and improve long-term outcomes for Zika-affected children.
Results:
McKing built a healthcare professional network that included more than 1,300 healthcare professionals at 940 practice locations across the United States and US territories. The healthcare professional network was accessible through the Zika Care Connect website and HelpLine. The website included educational and informational materials; experiential approaches; interactive content; frequently asked questions; and links to resources from CDC, state and local health departments, and partner organizations. The website was available in both English and Spanish. The HelpLine was accessible both by email and by a toll-free phone line staffed during business hours and available in English and Spanish. From its launch in 2017 through December 31, 2018, a total of 17,709 unique users visited the ZCC website, and the HelpLine fielded 394 incoming communications.
McKing designed and conducted an evaluation to determine ZCC's impact on improving access to specialized medical services for pregnant women and infants affected by Zika. The evaluation concluded that, based on the success of the ZCC program and its ability to meet program objectives, a similar framework could be used in the future to successfully establish a network of providers across a large geographic area and multiple specialties.
Client:

National Center on Birth Defects and Developmental Disabilities

Core Service Areas:

Communications and Marketing, Scientific Services

URL: