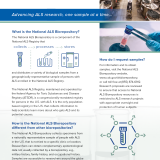 The Agency for Toxic Substances and Disease Registry (ATSDR) needed assistance with establishing a biorepository of specimens from persons with Amyotrophic Lateral Sclerosis (ALS) enrolled in the National ALS Registry. McKing conducted a pilot study to determine the feasibility of creating a National ALS Biorepository and developed a protocol with input from an expert panel. Following the conclusion of the pilot study, McKing implemented the Biorepository as a component of the National ALS Registry.
We recruit and enroll Biorepository participants across the United States to provide blood, urine, and/or saliva samples, and/or postmortem tissue donation. In addition to specimen collection, McKing promotes the availability of samples for ALS research to scientists, assists ATSDR with the review of researchers' sample requests, and distributes samples to approved researchers.
After seven years in operation, over 1,400 participants have provided blood, urine, or saliva donation, and more than 13,000 samples have been distributed to researchers for analysis. We collect 200–250 blood samples and 25–50 saliva samples per year. For the postmortem component, 64 participants enrolled, and we have completed 48 collections. McKing continues to contact the participants or their families on a quarterly basis to monitor the progress of the disease.